This Week: Suspect Arrested in 07/03 Meyerland Fatal Shooting; Quality of Life Materials Available Online; Open Call for Artists for 'Mini Murals'
Suspect Arrested in 07/03 Meyerland Fatal Shooting
Houston Police Department (HPD) has filed charges against a suspect arrested in the fatal shooting of Gabriel Coleman, which took place in the greater Meyerland area on Monday, July 3rd. Mayor Pro Tem Cohen continues to work with HPD to determine potential solutions to increase security near Nob Hill apartment complex and other area crime hotspots. HPD has also recently shared the following updates relating to public safety in the Southwest Division:
Regarding the recent tragic murder of Baby Messiah, all three suspects have been apprehended by HPD.
Patrols have been increased in the greater Meyerland area.
HPD recently announced new partnerships with the FBI, US Marshals, and Homeland Security to target violent crime in Houston.
In cases where a 'shelter in place' directive is issued, or other emergency-in-progress situations, HPD has begun to utilize Twitter and other social media accounts to alert neighbors in real time (please follow @HoustonPolice to receive these updates). HPD is also studying implementing push-notifications to cell phone users in these cases.
Police Chief Acevedo is spear-heading initiatives to make HPD more proactive, rather than primarily reactive, in responding to crime. A major aspect of this policy shift is allocating additional resources to prioritize aggravated assault cases. Aggravated assaults frequently escalate into murder, so apprehending aggravated assault offenders is a way to prevent those murders before they occur.
Quality of Life Materials Available Online
Vice Chair Robinson convened a meeting of the Council Committee on Quality of Life on Wednesday, June 28th. The Houston Planning and Development Department shared a presentation on Mayor Turner's Complete Communities Initiative. Video of the meeting is archived online via HTV (under the 'Committees & Commissions' tab). The next Quality of Life Committee meeting is scheduled for Wednesday, July 26th.
Open Call for Artists for 'Mini Murals'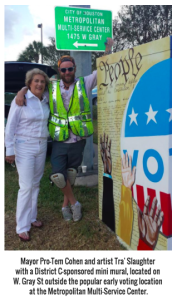 The City of Houston is seeking artists to submit qualifications to participate in the 'Mini Murals' initiative. This project reimagines traffic signal control cabinets as blank canvasses that can be used to beautify neighborhoods, strengthen community cohesiveness, and deter graffiti.
Mayor Pro Tem Cohen has sponsored 15 mini murals throughout District C via her Council District Service Fund. Houston has contracted with UP Art Studio for program management and is currently seeking to expand the artist roster. Those interested in applying may submit their qualifications, including work samples, following the process outlined in the Open Call Guidelines by no later than August 11th.