The City of Houston will activate the City's Emergency Operations Center (EOC) to Level II (High Readiness) at 6:00pm Monday to coordinate the response to the potential impact from a Tropical Disturbance that is headed towards our area.
Agencies represented in the City's EOC will be: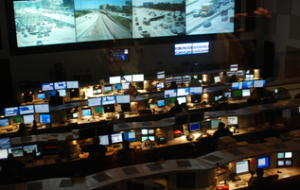 Houston Police Department
Houston Fire Department
City of Houston Public Works & Engineering Department
Houston Department of Health & Human Services
City of Houston Legal Department
Mayor's Office of Public Safety & Homeland Security
City of Houston Office of Emergency Management
City of Houston Information Technology Services
METRO
Houston Airport System
City of Houston General Services Department
Texas Gulf Coast American Red Cross
Located at the Houston Emergency Center (HEC) at 5320 N Shepherd Drive, Houston, TX 77019 in north Houston, the EOC is the central location for emergency response coordination in the City of Houston.
In addition to the City's EOC being stood up, the Catastrophic Medical Operations Center (CMOC), which is co-located at the City of Houston EOC will be activated.  Their role is to coordinate any potential resource or information needs that are required by the hospital community in a 25-county region.
Note to Media:  An OEM Spokesperson will be available for on-camera interviews from 4:00pm  – 6:00 at HOUSTON TRANSTAR at 6922 Katy Road.  In addition, a joint press conference is scheduled at that same location with Houston Mayor Annise Parker and Harris County Judge Ed Emmett
Media can call the following hotline for information:
(832) 224-NEWS (6397)
Houston Residents can call 311, visit houstontx.gov/emergency, follow @alerthouston on Twitter or visit facebook.com/alerthouston for up-to-date information on this incident.