City officials are hoping to replace more concrete segments of streets in lieu of simply patching over Houston's many potholes, part of an emergency response that Mayor Annise Parker called for earlier this year when she branded the onslaught of road maintenance needs a "crisis situation."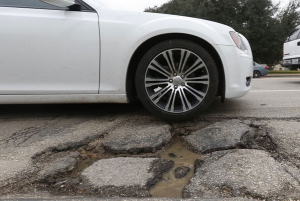 City Council on Wednesday will consider approving a series of contracts with a combined emergency spending authority of up to $5.6 million, enough to replace more than 550 concrete panels. Public Works and Engineering officials also want to spend that cash, part of the city's Dedicated Drainage and Street Renewal Fund, more quickly than usual; the agenda item would not require work associated with the contract to come back to City Council.
The replacements will go to roads identified through calls to the city's 311 line, with an emphasis on major thoroughfares, said department spokesman Gary Norman. The focus will be on roads not already scheduled for work on the city's five-year Capital Improvement Plan, but Norman said there may be some exceptions.
All of the panel work should be completed in the next 180 days, weather permitting.
"This is work that might have taken years to complete without this extra funding," Norman said in an email, "instead we are able to do it now."
The idea is to create a second tier of pothole repairs, doing more substantive work on pockmarked roads that aren't scheduled for major work or reconstruction under the city's five-year capital improvement plan.
Short of road reconstruction, concrete panel replacements are considered among the more expensive and substantive repairs. The work can be time consuming, pulling up a bad panel and then completely replacing it with a new concrete one rather than simply sending a truck out to quickly fill it with asphalt. About 60 percent of Houston's streets are made up of a series of concrete panels.
The emergency spending authority won't cure the city's massive pothole problem, nor will it address what Mayor Annise Parker and public works officials say is the fundamental problem – that potholes are merely a symptom of chronic underinvestment in roads during the past few decades. But public works officials say it marks an important shift in philosophy, noting they have never before done concrete panel replacement on this scale.
"What you are actually witnessing is a transition in philosophy with respect to 'just go out there and fix it' as opposed to 'let's go fix it with a more permanent fix where we're able to,'" Public Works Director Dale Rudick told a City Council committee this month. "And that of course takes resources."
Pothole 'crisis'
The request also comes more than two months after Mayor Annise Parker called the potholes a"crisis" and vowed to act more quickly on maintenance. Her comments came on the heels of several negative media reports about $10 million in extra funds the city approved last summer for maintenance that remained largely unspent until this year.
"It took years to get into this situation," Parker said in her State of the City address this month. "It's not going to take nearly as long to get out of it, but Houston drivers will need patience."
Adding manpower, work hours and the previously unspent funds has helped reduce the backlog by more than 1,000 potholes, but the department still is not keeping pace with incoming work orders. Earlier this month, the backlog dipped to below 3,000 open work requests.
The key moving forward is balancing maintenance needs with Parker's commitment to larger reconstruction projects, many still years out, Rudick said, a nod to ReBuild Houston.
ReBuild program
Voters narrowly approved the ReBuild program in 2010, agreeing to assess a monthly drainage fee on property owners that would be used to create a pay-as-you-go fund to pay for street and drainage repairs.
The program was premised on the idea of using data to prioritize projects on a "worst-first" basis in hopes of eliminating politics from the scheduling of the costly projects. So far, $655 million has been spent or earmarked for new projects.
Council set aside the additional $10 million for maintenance last year, hoping to quell a rising tide of complaints.
Andrew Wimsatt, a research engineer at Texas A&M's Transportation Institute, said doing concrete panel replacement can be a sound, though costly, repair option if the rest of the surrounding concrete is in good condition.
Otherwise, it doesn't make economic sense to do a costly panel replacement that will ultimately be torn up when a city addresses larger problems with a road in a couple years.
"If the concrete is totally cracked for blocks and blocks, yes, you can still do a concrete patch," Wimsatt said. "But if the rest is still failing, is that what you really want to do? It's probably better just to wait. That's the challenge with maintenance."