The master plan for Memorial Park is complete, and, if approved, Houston's largest park will get a major makeover.
The project would potentially cost $200 million over the next two decades, Sarah Newbery, project manager for the Uptown Tax Increment Reinvestment Zone, told the Houston Business Journal.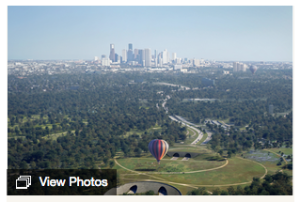 Over the years, Houston's parks have seen major upgrades. Philanthropists like Rich and Nancy Kinder have contributed millions to projects in the past, but they would not say if they have plans to donate to the Memorial Park overhaul.
The transformative project proposes features like a land bridge over Memorial Drive, an indoor pool, extensive increases to the park's bike and running trails, an observation deck and a remodeled driving range for the golf course.
For the project to come to fruition, however, it still needs to pass the city council. The master plan is expected to be submitted to the mayor and city council in April, according to a statement.
The landscape architect for the plan is Charlottesville, Virginia-based Nelson Byrd Woltz, according to a statement.