The 3 ½-year contract will bump up entry level salaries for Houston police officers by 20 percent to $42,000. There will also be across-the-board pay raises.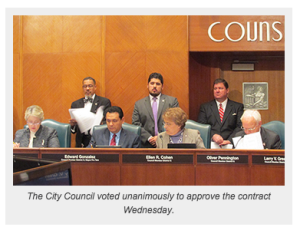 The council approved the contract unanimously a week after Council member Oliver Pennington tagged the item, because he wanted a certification showing there was enough money available for it. Pennington made it clear he supports the raises and the delay was merely a procedural matter.
"The way I read it, the availability of funds needed to be certified by the controller," he said. "The controller has responded now and said that the certification is not needed on this matter. And I've also talked to the city attorney about it."
Doug Griffith, vice president of the Houston Police Officers Union, addressed the council after the vote.
"There's no other city in the nation that has a working relationship like the HPOU does with the mayor and the council and the citizens of Houston," Griffith said. "I'm proud today to say thank you."
Officials say the Houston Police Department lags other Texas cities in pay, and the new contract makes it more competitive.