You can spot a lot of things out on Houston's bayou trails, but last week local resident Joel Osterman saw something really out of the ordinary. He described a fit looking person wearing a Parks By You golf shirt walking the trail along White Oak Bayou with a camera mounted to his body.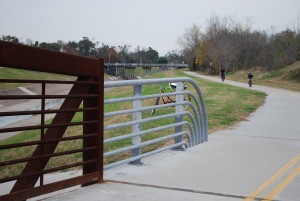 "It was very elaborate, very expensive and very heavy," said Osterman. "Imagine a European backpacker."
There was another parks employee several hundred yards behind the first, carrying a clipboard. Osterman stopped to briefly visit with the two men and they told him that their work was part of a partnership with Google.
Roksan Okan-Vick, executive director of Houston Parks Board (HPB), said she can see why the getup might have looked a bit strange to those on the trail and confirms that the HPB is working with Google to map the hike and bike trails along the bayou. The data collected will become part of Google's Street View feature.
Although not a great deal about the project can be shared at the present time because of the guidelines of the partnership, Okan-Vick did confirm that Google contacted the HPB and asked them to participate.
"We were terribly excited," said Okan-Vick. "It's a great service."
Okan-Vick said that the HPB did not have to pay for the project and that Google made their equipment available. She said that the backpack and globe atop the mapper's head allows for 360 degree views of the surroundings through panoramic video. The other parks employee is there for safety and remains far enough back not to get captured on video.
If you are curious what the device looks like, it's most likely similar to the Trekker profiled by NPR when Google undertook to map the Grand Canyon in 2012, although in Houston's case the paths are a lot more level.
Right now the only trails that are being mapped by park employees with Google's equipment are those along the bayou, as well as the handful of parks right on it – like Mason Park which is part of Brays Bayou. Those interested in exploring the trails or mapping alternative transportation from point A to point B, can use their smart devices and their own two feet.
Okan-Vick noted that employees are staying on the trails and in applicable parks to capture data. "We're not meandering anywhere else."
The program to map hiking and biking trails started in 2009 in Monterey, CA and spread to other cities in California as well as the United Kingdom and Italy. It's safety for those doing the work, as well as market share (Google far leads their mapping competitors MapQuest and Yahoo Maps) that leads to the non-public nature with which Google moves into new cites to map trails.
While the original Street View feature has been very popular in the US with only some privacy concerns, there was more of an outcry in other countries like Japan where data had to be tossed and new car mounted cameras positioned lower to avoid capturing images over people's fences.
The addition of Google Street View information along hike and bike trails is likely to be more tolerable since trees don't complain much, and the camera is mounted on a person, not a car, so the elevation isn't too high.
Okan-Vick said that the HPB is wrapping up their part of the project and will soon send all data to Google. She hopes that in the future all of Houston's hike and bike trails can be added to Google Maps, as well as the new sections of existing bayou trails, like the Antoine to Albonson link of the White Oak Bayou trail.
When the trail information is available to Houstonians on Google Maps, the HPB will certainly publicize it to the hilt.
"We have a lot of lovely places to share," said Okan-Vick.