The National Weather Service says that the City of Houston may experience below freezing temperatures Wednesday evening into Thursday morning.
While there is no rain or ice expected, low temperatures can cause very dangerous conditions for area residents.  "When temperatures dip this low, we want Houstonians to take steps to keep themselves and their families safe," said Rick Flanagan, Emergency Management Coordinator for the City of Houston, "This includes protecting people, pets, pipes and plants."
The City of Houston is offering the following tips: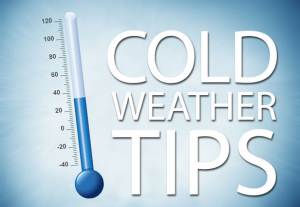 Protect People
Check on elderly or disabled friends, neighbors and relatives and make sure they have a warm place to ride out the cold weather.
During cold weather, hypothermia is a big concern. Be sure to wear sufficient layers of clothing before going outside.  This includes long pants, gloves, a scarf and a warm hat.  Most body heat is lost through the top of the head.
Remember that "Space Heaters Need Space" – ensure that at least 3 feet of clear space is around space heaters and fireplaces.  Ensure that children and animals are kept away from these devices.
Make sure you have a working, properly-installed carbon monoxide and smoke detector in your home.
City Ordinance requires that buildings be able to be least 70 degrees when temperatures outside are in the 20s.  This means that landlords are required to maintain an adequately functioning heating system.  If you have a complaint about unsafe housing conditions, call 311 (713.837.0311).
Multiple area shelters are available through the Star of Hope, The Salvation Army and other community organizations for anyone who needs overnight sheltering.
Residents are welcome to visit any open City facility during their normal operating hours to take advantage of the climate controlled environment.  This includes libraries, parks and recreation facilities, and multi-service centers.
Protect Pets
Make sure pets have a warm, safe place to spend the evening.  This may mean bringing them indoors overnight.
It is illegal to capture any kind of animal during extreme weather conditions.
Protect Pipes
While temperatures have to dip into the mid-to-low 20s for pipes to freeze, its a good habit to properly insulate pipes during the winter.  This means using cloth, or commercially-available pipe insulators for any outdoor pipes.
Also, residents should get in the habit of leaving cabinet doors open under sinks to ensure that heat reaches them, especially if they are on exterior walls.
Contrary to popular belief, do not leave pipes running or dripping to prevent freezing.  This can cause low water pressure across the entire water system, and hamper the use of fire hydrants in your neighborhood.
Protect Plants
Bring sensitive plants indoors during cold weather, and for those that can't be moved, cover them with a tarp or sheet.
Ensure that plants are adequately watered to keep them from drying out due to cold winds.
Residents can find more tips and information on heater safety and cold weather, as well as sign up for emergency alerts at the City of Houston emergency website at houstontx.gov/emergency.