The City of Houston moved quickly to reach a damages settlement in connection with the unpermitted elimination of oak trees from the public right-of-way at 5003 Kirby Drive. The trees were chopped down in the middle of the night as part of a construction project near the corner of Kirby and North Boulevard.  With the $300,000 settlement reached last Friday, the City has recovered more than $1 million for improperly removed trees this year, which is unprecedented.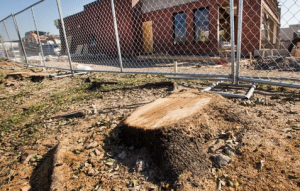 "Our trees are valuable resources and their preservation is important to the city," said Mayor Parker. "We have a fair process for developers, but when they violate our policies we will not hesitate to prosecute to the fullest extent of the law."
The $300,000 settlement for the four oak trees ranging in size from 10 to 20 inches in diameter was reached within less than three weeks and was based on the value of the removed trees.
"We are pleased with how quickly we were able to resolve this with the developer and the amount received in reparations, but we are also hopeful that this will further drive home the point that the City will not stand idly by when trees are improperly removed from our right-of-way (ROW) and that developers who do so will be met with swift, punitive legal action."
The Kirby Drive and North Boulevard Oaks had been planted by Trees for Houston volunteers acting on behalf of the Boulevard Oaks Civic Association more than a decade ago.