Houston Police Department Sergeant Glenn Shepherd knows first-hand the effects domestic violence has on suspects, victims and children.  It crosses all racial and economic boundaries and although the victims are predominately female, they (and their abusers) can be male or female.
As today (Wednesday, October 1) marks the beginning of Domestic Violence Awareness Month, HPD is seeking to educate the public on this important issue.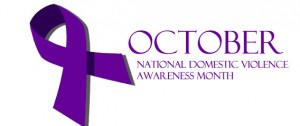 "I investigate every case like it's my family involved," said Sergeant Shepherd, assigned to the HPD Family Violence Unit.  "I feel it when a woman has been beaten so badly she has to have someone lead her to us because her eyes are swollen shut."
What is Domestic Abuse? 
According to Sergeant Shepherd, domestic abuse can take many forms and is one of the most serious of crimes.  Aside from the commonly recognized physical abuse, domestic violence can take other non-violent forms.  It becomes illegal when the abuser follows up his or her actions with threats of violence.
"The abuser says 'you're not going to get any money, you're only going to get so much for food or clothing.  If you violate my rule, I'm going to put you on the street.  I'll lock you out of the house.'  I've had a case where a woman was locked outside for three days," said Sergeant Shepherd.  "So your choice is to come in and get some help or go back to him."
Even when there isn't physical violence, threats can result in charges.
"Record him," advised Sergeant Shepherd.  "If he says he's going to kill you if you do this or that, that's a terroristic threat."
What are the Signs of Domestic Abuse?
Friends and co-workers should be alert for signs of domestic abuse, which can include changes in someone's personality.
"If someone was outgoing, but now appears withdrawn.  If they used to socialize with you, but now all of a sudden don't anymore, if they're shirking society, or staying inside their house all the time.  Ask what changed?  Try to talk with them and get their confidence.  Sometimes, if you just talk with them, you open up the possibility of them telling you what's going on and they realize there's a way out of this situation," said Sergeant Shepherd.
As for the physical signs of abuse, look for unexplained injuries or bruising, especially on the arms where someone may be grabbing the victim.
"Police officers also have to be aware of the signs," said Sergeant Shepherd.  "A lot of times, the victim won't tell the officer, but the signs are there.  If the victim doesn't make a report, and the officer leaves, then the abuser has been empowered.  He tells her 'you called the police and they're not going to do anything, so why would call you call them again?'  And that's what the victims tell me- 'why would I call you again?'"
Sometimes an officer gets a call that appears unrelated to domestic abuse.  It may involve something as seemingly mundane as a theft report.
"The suspect is trying to make a report because the wife finally got the courage to leave and took everything out of the house," said Sergeant Shepherd.  "When the officers track her down, they find out she's been abused."
If she has made an outcry to someone, that helps document her case and aids in the prosecution of the abuser.
What can be Done? 
"Without the public's assistance, a lot of times we can't make the case," said Sergeant Shepherd.  "Many times, these cases are reported by a neighbor who said they heard it, or a relative suspected it, and then got the police involved.  That's what leads us to begin the investigation."
"It's incumbent upon the public to actually get involved and try to stop it.  It's not going to stop on its own," he added.  "The victim is afraid in some cases.  In other cases, she thinks she can't afford to be out on her own.  But there are programs to help her get away."
"There was one case involving a woman with five children.  Those programs and agencies were able to get her help.  They got her into a women's shelter that also took in her children.  They were able to get her children into school.  They actually helped her get a job."
"It's more than simply getting out of a relationship.  What will happen is, unless the victim gets help, he or she will simply get back into the same type of abusive relationship with someone else."
Effects of Domestic Abuse 
There's more to domestic violence than just the physical and emotional abuse suffered by the victim.  In many cases, there are children present who become victims themselves.
"There's a lot of child abuse involved in these cases.  When the abuser can't take it out on the woman, or the woman disappears and the child is still there, then he starts beating the child," Sergeant Shepherd said.
"In one case, the wife got enough nerve to run away, but she left her 12-year-old daughter behind.  The daughter was basically taking care of the house and being beaten the same way her mother had been beaten.  Mom got away, and my question to her when we found her was 'why didn't you take your child?'  She told me she was too afraid to come back.  I asked her 'why didn't you tell somebody?'  She said she didn't think they'd help," he said.
The girl was ultimately placed in the care of Child Protective Services (CPS).
Moreover, children who witness domestic violence can become abusers themselves once they become older.
"At a very young age, if they see mom being hit, mom cry, then the parents make up, they think it is okay.  So when they grow up, they do the same thing."
"I've also had elder abuse cases involving victims over 65 years old beaten by their children who are now in their 40s or 50s," Sergeant Shepherd said.  "In some cases, the suspects tell me their parents beat them when they were younger."
"You have to get past that," he added.  "Let's break the cycle right now.  Because if you don't, I'm to going to try to put you in jail for beating your mom or dad."
Resources 
The first call a victim or witness makes should be to law enforcement, Sergeant Shepherd advised.
"It's a 9-1-1 call," he said.  "You are a victim and your life is being threatened, whether they're pointing a gun at you or you're being beaten every day.  One blow, to the wrong place on your body, you are dead."
"An officer can talk with the suspected victim and, if nothing else, provide information on the programs available.  By law, every victim gets a blue form that lists all the resources available," he said.
"I would tell you, look at that form and run.  Run to one of those agencies."
"A lot of times, someone doesn't want to make a report because they don't want to lose their breadwinner," Sergeant Shepherd added.
But as the blue form indicates, there are resources and agencies that can help provide shelter for a parent and child, and even provide child care while the parent gets schooling or goes to work.  It helps someone become self-sufficient.
There is also access to legal aid that can help obtain child support, divorces, and protective orders.
"A protective order won't stop an abuser from attacking the victim.  However, it does give us one more tool to go after him."
The bottom line for Sergeant Shepherd:  Get help, get out of an abusive relationship, and document everything, whether by filing a report, taking photographs, or talking to police or witnesses.
"Stop being a victim.  Make him pay for what he's done."
For more information on domestic violence, visit the HPD website at http://www.houstontx.gov/police/fvu/index.htm