The Harris County crime lab is on its way to getting some much-needed breathing room and new tools to solve crimes.
Wednesday was the official groundbreaking for a nine-story, 200,000 square foot crime lab directly across the street from the current one in the Medical Center.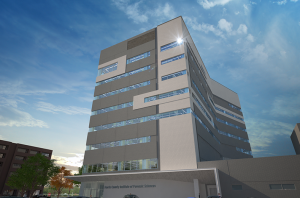 Dr. Roger Kahn directs the lab for the Harris County Institute of Forensic Sciences. He says the new building will give his team much more space and flexibility to keep up with the latest in crime solving.
"There's no fixed furniture, for example. Everything's on tables. The data lines are everywhere. These are things that we're constantly struggling with in the existing building. We've given (the lab techs) this fixed space and this cabinetry. How can we make these new instruments fit? In here, it'll be much easier," says Kahn.
The new crime lab will make it easier to use a new technology that detects the presence of designer drugs in criminals, crime victims, and other bodies that show up in the morgue.
"We look (with) ordinary toxicology testing. We don't see the drugs at all. Using these new technologies, we can find drugs nobody has even seen before, quantitate them and identify them. And we might be the first in the nation to be able to do it," says Kahn.
The new crime lab could also enable Dr. Kahn to expand his staff by up to 50 percent by the end of the decade. It's scheduled to open in early 2017.