Celebrate Hispanic Heritage Month at Houston Public Library's (HPL) Third Annual Houston LibroFEST on Saturday, September 27, 2014.  The day-long fun festival brings entertainment for the entire family. This year, Houston LibroFEST celebrates Latino literature and culture in the Bayou City with presentations by authors, musicians, and cultural activities.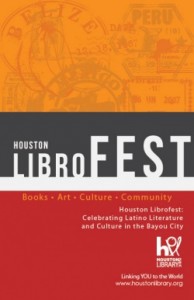 Featured authors will include Richard Blanco, Fifth Inaugural Poet of the United States, and Rolando Hinojosa, recipient of the National Book Critics Circle's Ivan Sandrof Lifetime Achievement Award. Houston LibroFEST will take place at two HPL locations: the Central Library and the Flores Neighborhood Library. All events are free and open to the public.
Central Library, 500 McKinney, 77002, 832-393-1313
Saturday, September 27, 2014 || 12 – 8:30 PM
Enjoy live music and food trucks on the Central Library Plaza, and a cultural exchange featuring editors, publishers, and award-winning Colombian author Patricia Engel. The celebration will conclude with an evening presentation featuringBlanco and Hinojosa in the Julia Ideson Building, Auditorium. Blanco will discuss his upcoming book, a personal memoir,"The Prince of los Cocuyos," to be published Tuesday, September 30, 2014. Hinojosa is best known for his "Klail City Death Trip" series of novel. The Julia Ideson Building is located at 550 McKinney, 77002.
Flores Neighborhood Library, 110 North Milby, 77003, 832-393-1780
Saturday, September 27, 2014 || 12:45 PM – 5 PM
As part of Houston Arts Alliance's Transported + Renewed program, the LibroFEST lineup in Houston's historic East End will include presentations by authors who will talk about their books for children and young adults; writing and arts activities; and a special musical performance by acclaimed singer-songwriter Tish Hinojosa.
About Poet and Author, Richard Blanco
Blanco was born in Madrid and immigrated to the United States as an infant with his Cuban-exile family. He was raised in Miami and earned a BS in civil engineering and MFA in creative writing from Florida International University. Blanco has been a practicing engineer, writer, and poet since 1991. His collections of poetry include "City of a Hundred Fires" (1998), which won the Agnes Starrett Poetry Prize; "Directions to the Beach of the Dead" (2005), winner of the PEN/American Beyond Margins Award; "Looking for the Gulf Motel" (2012), winner of the Tom Gunn Award, the Maine Literary Award, and the Paterson Prize; "One Today" (2013); "Boston Strong" (2013); and "For All of Us, One Today: An Inaugural Poet's Journey" (2013).
"In 2013, Blanco was chosen to serve as the Fifth Inaugural Poet of the United States. Blanco performed 'One Today,' an original poem he wrote for the occasion, becoming the youngest, first Latino, immigrant, and openly gay writer to hold the honor."  – Poetry Foundation
About Author Rolando Hinojosa
Hinojosa was born in Texas's Lower Rio Grande Valley in 1929, to a family with strong Mexican and American roots; his father fought in the Mexican Revolution while his mother maintained the family north of the border. An avid reader during childhood, Hinojosa was raised speaking Spanish until junior high, where English was the primary spoken language. Like his grandmother, mother and three of his four siblings, Hinojosa became a teacher. He is a novelist, essayist, poet and the Ellen Clayton Garwood professor of literature in the English Department at the University of Texas at Austin, where he has taught for nearly three decades.
Hinojosa is best known for his ambitious "Klail City Death Trip" series of novels which comprises 15 volumes to-date, from"Estampas del Valley y otras obras" (1973) to "We Happy Few" (2006). He is also an accomplished translator and essayist, as well as a mentor and inspiration to several generations of writers. He was the first Chicano author to receive the prestigious Premio Casa de las Américas award (1976) for "Klail City y sus alrededores" ("Klail City"), part of the series. He also received the third and final Premio Quinto Sol Annual Prize (1972), for his work "Estampas del Valle y otras obras." Hinojosa is the recipient of the National Book Critics Circle's Ivan Sandrof Lifetime Achievement Award (2013).
About the Houston Public Library
The Houston Public Library (HPL) operates 35 neighborhood libraries, four HPL Express Libraries, a Central Library, the Houston Metropolitan Research Center, the Clayton Library Center for Genealogical Research, The African American Library at the Gregory School, and the Parent Resource Library located in the Children's Museum of Houston. Serving more than seven million customers per year in person and online, HPL is committed to excellent customer service and equitable access to information and programs by providing library customers with free use of a diverse collection of printed materials and electronic resources, Internet, laptop and computer use, and a variety of database and reference resources with live assistance online 24/7.
For further information, visit the Houston Public Library at www.houstonlibrary.org or call 832-393-1313.