been a long time coming, but neighborhood persistence and the help of some Houstonians with deep pockets has resulted in the creation of the city's newest park.
Mayor Annise Parker and other city leaders gathered under the broiling sun on Thursday to dedicate Mandell Park and marvel at how it came about. "This is little park that could," chief fundraiser Marianne Jones said, referring to the children's book, The Little Engine That Could. "(We thought) 'I think I can, I think I can.' But we never imagined it would be like this."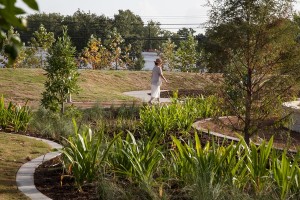 More than 30 years ago, the city bought the 1.2-acre property at the corner of Mandell Street and Richmond Avenue in the Montrose area for a library and leveled a strip shopping center and homes to clear the land for construction. But when plans changed to locate the library in a church building on nearby Montrose Boulevard, no one knew quite what to do with the old property. It soon became a dumping ground for trash, tires and old furniture until neighbors cleared it and started a community garden.
Over the years, they convinced city officials that it deserved to be a park and embarked on a $1.2 million campaign to build and maintain it. The result is a multi-use space that features a circular garden with plants in raised beds of limestone, a grassy hill designed for play, park benches for quieter reflection and cinder paths for walking.
The campaign got a boost when Katherine McGovern authorized a substantial $300,000 donation from her family's John P. McGovern Foundation. The Brown, Elkins and Wortham Foundations also contributed, along with individuals and corporations. The city parks department chipped in around $300,000 through an open space fund and Trees for Houstondonated trees on the property.
The Friends of Mandell Park, a non-profit organization, developed a master plan through a collaborative design session known as a charrette where architeture students from the University of Houston Gerald D. Hines College students were paired with local architects. They chose a design by Asakura Robinson that includes the various components, including an organic community garden emphasizing native herbs and plants, named Meredith's Garden in honor of former neighbor Meredith Burke, and a storage shed with a roof of grass, named "Skip's Shed" for Stanley "Skip" Almoney, a neighbor who has championed the project for years.
At the dedication, Houston Parks and Recreation Department director Joe Turner noted that the park looks bigger because there are no power lines. "When you bury utilities, what a difference it makes," he said.