Gay and transgender equal rights are at the forefront of a simmering battle in the fourth largest city in the United States. The Houston City Council passed an equal rights ordinance 11-6 in May that is continuing to be met with opposition, drawing thousands of signatures against it that were submitted early this month.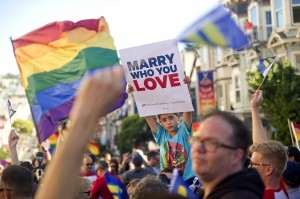 Foes argue that the law, which not only focuses on protecting rights in Houston's gay community, but also prohibits discrimination in employment, public accommodation and housing on the basis of sex, race, color, ethnicity, national origin, age, familial status, marital status, military status, religion, disability, sexual orientation, genetic information, gender identity or pregnancy, goes against their own free speech rights.
One of the focal points of the ordinance is a possible $5,000 fine that public-serving businesses, private employers, housing, and city employers would have to pay if they discriminate against people.
Dave Welch of the Houston Area Pastor Council told the Houston Chronicle that he is confident that opponents of the law will win a referendum vote this November.
"With a very difficult process in place required to gather these signatures – you have to be a registered voter to gather, every sheet has to be notarized – we still gathered over 50,000 in 30 days," Welch said in the Houston Chronicle article. "That's pretty impressive, and it shows the nature of what the citizens believe about this ordinance. That speaks well, we believe, to this fall."
By early August, Houston's city secretary will have to validate the signatures.
No signature may be older than 30 days prior to July 4. A total of 17,269 verified signatures from registered Houston voters are needed to lead to a referendum.
Supporters of equal rights, particularly the rights of gay and transgender residents, have come out in overwhelming numbers to keep the ordinance alive.
"I sponsored the Equal Rights Ordinance because I believe all people deserve to be treated fairly and equally and protected from discrimination," Houston City Council Woman Ellen Cohen said. "I led the Houston Area Women's Center for 18 years – working to eliminate sexual and domestic violence against women. This law protects women and girls – and does absolutely nothing to put their safety at risk."
"The Houston I know does not discriminate, treats everyone equally and allows full participation by everyone in civic and business life," said Mayor Anise Parker, Houston's first openly gay mayor.
"We don't care where you come from, the color of your skin, your age, gender, what physical limitations you may have or whom you choose to love.  I am confident voters will soundly defeat any challenge to the ordinance," said Parker.
The city's deadline for a vote to place the referendum on the ballot is August 18.