There was no "Big Yellow Taxi" next to the city of Houston's inaugural (parklet) on West 19th Street in the Heights.
"This is the exact opposite of paving paradise to put up a parking lot," said District C Councilmember Ellen Cohen, referring to the popular 1970 song about development compromising nature. "I have a feeling we'll see parklets sprout all over."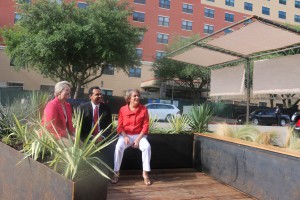 On Thursday afternoon, New Living Bedroom owner Jeff Kaplan, Mayor Annise Parker, Cohen, Councilmember Ed Gonzalez (District H) and the city's Director of Sustainability Laura Spanjian discussed the city's first "Parklet," a semi-permanent green space that is installed where a 125-square foot parking space used to be, in front of New Living Bedroom.
The mini-park, which was created by industrial designer Jose Martinez, offers a bench to sit down, and a place where pedestrians can gather. It's also expected to be a hot spot for musicians.
Kaplan said he came up with the idea when he was visiting San Francisco.
"It increases walkability on urban corridors such as 19th Street, and it's a benefit to small businesses," Kaplan said.
Kaplan was willing to forfeit a parking space in front of his businesses, in order to make it a reality. He said the floor of the park is made up of recycled wood.
The project was privately funded, but Kaplan reached out to Gonzalez for permitting and easement requirements.
Parker said projects such as the parklet help to "humanize a mega city" such as Houston.
"It's the first one, but I hope it's not the last."
"People are naturally gravitating to the spot – it's a little oasis," Gonzalez said.
Spanjian said she hopes that more park lets are in the city's future.
"It allows for more greenspace, connects people in a beautiful setting and adds value," Spanjian said. "We figured out a way to build on public right of way, and they maintain it. It's a win-win for everybody."