A steady crowd converged on downtown Houston for the first weekend of the Houston International Festival, feasting on diverse cuisine, shopping at global markets that featured works by 400 artisans and watching entertainment on five stages.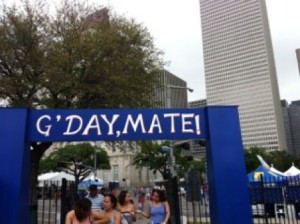 Festival president Kim Stoilis called the turnout "good," which while not record-breaking, should begin the effort to bring the festival back into the black by its 50th anniversary in 2020.
The festival is the signature event of the Houston Festival Foundation, which announced last year that it would no longer produce the Thanksgiving Day Parade. The group still has an estimated $400,000 of debt – making the success of this year's iFest paramount, organizers said.
Saturday's crowd likely topped 20,000 with the day's cool, overcast weather having lightened the crowd, and attendance figures weren't yet available for Sunday.
Stoilis is hopeful that next weekend's crowd will be larger so that the four-day festival reaches its overall attendance goal of 100,000.
What began as a street fair in front of the Alley Theatre in the early 1970s slowly grew to attract throngs as high as 250,000 as people came to recognize Houston as an international city, organizers said.