Houston is falling behind. Other Texas cities are putting America's melting pot values into law with nondiscrimination ordinances that cover race, age, disability, veteran status and sexual orientation. Our city has failed to act. Public discrimination is essentially still legal under Houston's city laws and comes in many different forms: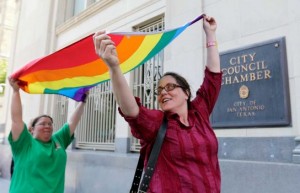 Veterans denied service at coffee shops because of their service animals;
Black and Hispanic men banned from popular bars because of the color of their skin;
Qualified elderly workers denied jobs because of their age;
Same-sex couples denied housing because of outdated homophobia.
We're glad to see Mayor Annise Parker finally stand up and propose a human rights commission that will provide local due process for victims of public discrimination. Parker told the Chronicle editorial board that she plans to release a formal version of her proposal within the next few weeks, but sometimes the process is just as important as the result.