Houstonians looking for the perfect new family member can find their match at BARC Animal Shelter and Adoptions' first ever Adoption Block Party at the Chase Bank, located at 500 W. 19th, Houston 77008 from 11 a.m. to 5 p.m. BARC is cutting the adoption fee for pets in half; $25 for dogs, $37.50 for puppies, $17.50 for kittens and $10 for cats. Thanks to Proler Southwest/Sims Metal Management for sponsoring the event.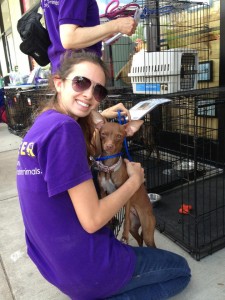 "This isn't just any adoption event; we're planning some fun festivities such as a photo booth for adopters with their new pets, face painting for the kids and great music. What's Up Cupcake will even be at the event with yummy treats for our guests," said Ashtyn Rivet, BARC Marketing and Outreach Lead. "At least 100 adorable dogs, cats, puppies and kittens will be available for adoption. It's going to be an amazing day!"
Keola and his HOT 95.7 crew will be hanging out at the event. Adopters are also welcome to participate in a raffle for a gift package worth up to $100 during the event. The drawing for the raffle will take place at 3 p.m. on Saturday.
The half off adoption fee promotion will also apply at BARC, located at 3200 Carr Street, Houston 77026,  on Saturday from noon to 5:30 p.m.
BARC's adoption package could cost hundreds at other pet organizations. The package includes spay/neuter surgery, a one-year City license, a pre-registered microchip, age-appropriate vaccinations and a toy.
View hundreds of animals currently available for adoption at www.HoustonBARC.com.
To adopt, citizens must be 18 years of age with a current Driver's License or ID and must provide proof of current address. Those who rent must have landlord approval. Visit www.HoustonBARC.com to get more information about BARC's adoption fees and requirements.
If you are unable to permanently adopt a pet but would like to help animals in need, BARC encourages you to consider becoming a volunteer or foster pet parent.
The simplest but most powerful thing you can do to help BARC and pets throughout our community is to talk to your friends, neighbors, and family about caring for pets responsibly. To donate to BARC online via the Houston BARC Foundation, visitwww.HoustonBARCFoundation.org.