In a hushed room of 1250 people Holocaust Survivor Bill Morgan with developer Murry Bowden were recognized as this year's Guardians of the Human Spirit because of their contributions to the quality of life in Houston.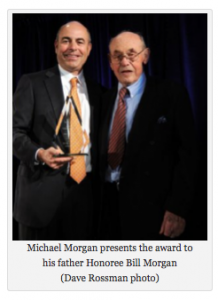 The award was created by Holocaust Museum Houston in order to acknowledge Houstonians that work to enhance the lives of others and better humankind.
Also at the fundraising event were Houston City Council members Ellen Cohen and Steve Costello; State Representative Sarah Davis; Arthur Schechter; former Ambassador to the Bahamas; former Houston city Council member Anne Clutterbuck; and former District Judge Susan Soussan, adding the to record turnout and the almost $900,000 raised.
Holocaust Museum Houston is dedicated to educating people about the Holocaust and to keep in the forefront the 6 million Jews and other innocent victims.