The Cohen Ambassadors Program (CAP) was created to help our city hall office track the ideas and concerns of the nearly 60 civic clubs from around District C.  The program allows our ambassadors to trade stories about challenges and successes in their various neighborhoods.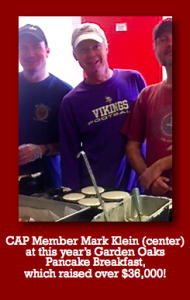 Anecdotes about problem-solving in one area can provide guidance for another area with similar issues. Our CAP Member in the Spotlight, Mark Klein, has been incredibly open to talking to other CAP members about his experiences as the president of the Garden Oaks Civic Club and the club's many successful annual fundraisers.Mark keeps in regular contact with the District C office and emails whenever an issue arises in the neighborhood. Because of his advocacy, the District C team has been able to work with Garden Oaks on issues such as crime, blighted property abatement, and deed restriction violations.
Keep up the good work, Mark!
About Garden Oaks
Nestled among towering pines and grand magnolias, Garden Oaks is a quaint and architecturally unique neighborhood of approximately 1400 homes, located between Ella Blvd. and Yale St. just north of the 610 loop.