Sheriff Adrian Garcia Says "Yes" to Donation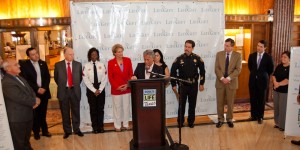 Public servants dedicate themselves to serve their community and protect the lives of others. Harris County Sheriff Adrian Garcia took that commitment a step further today by announcing that the Harris County Sheriff's Office (HCSO) – an entity of more than 4,000 employees – will formally become an advocate for saving lives through organ and tissue donation. Sheriff Garcia made the announcement today during a press conference hosted by LifeGift, the local not-for-profit agency that recovers organs and tissues for lifesaving and life-enhancing transplants. The Harris County Sheriff's Office makes this commitment as the donation community recognizes the dire need for transplantable organs and tissue among multicultural populations as noted during National Minority Donor Awareness Day, which occurred on Aug. 1.
The Harris County Sheriff's Office is the first law enforcement entity to become a Workplace Partner with LifeGift. Spearheaded by the United States Department of Health and Human Services, the Workplace Partnership for Life initiative is designed to increase donor awareness among Fortune 500 companies, hospitals and other entities. As a Workplace Partner, the HCSO will provide educational resources to its staff and encourage organ and tissue donation.
"In law enforcement we see people lose their life far too often, so partnering with LifeGift to help save lives just made sense," said Sheriff Garcia. "One of our very own – Detention Officer Sgt. Vickie Bratcher – received a second chance with a kidney transplant. She knows firsthand what a life-saving gift organ donation is. It's not only enhanced her quality of life, but the quality of the time she spends with her family, friends, and her HCSO family."
Nationally, there are more than 110,000 men, women and children waiting for a lifesaving transplant. In Texas, alone there are almost 11,000 people.
"LifeGift applauds the Harris County Sheriff's Department for joining us in an effort to save lives through organ and tissue donation," said Sam Holtzman, president and CEO for LifeGift. "The Sheriff's support is fitting in an organization that knows all too well about making sacrifices for the well-being of others."
While the Glenda P. Dawson Donate Life – Texas Registry is gaining momentum and numbers have improved dramatically, less than 10 percent of Texans over the age of 18 are registered. Registering to become an organ, eye and tissue donor is simple. It's free and it takes less than five minutes. There are three easy ways to register:
– Electronically via www.donatelifetexas.org.
– In person at the Department of Public Safety Office (DPS) or the DPS website.
– Online with the Department of Motor Vehicles (DMV) when renewing vehicle registration.
For more information about LifeGift and the registry, visit www.lifegift.org. For more information about Harris County Sheriff's Office, visit www.hcso.hctx.net.