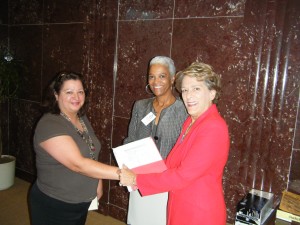 (Houston) – Ellen Cohen filed the official paper work with the Mayor's office this morning for Houston City Council District C. Today marks the first day that candidates can file their application for a place on the November 8th ballot.  Cohen, accompanied by her treasurer Jackie Martin, was the first candidate to file at City Hall this morning.
"I feel confident about my race and our numbers look good," said Cohen.  A recent poll shows Cohen with a solid 35 point lead and she was the leader across the board in every region of the district.  In the portion of the district that covers Cohen's former legislative seat, she earns an impressive 59% of the vote.  "I am thrilled by the outpouring of support enforcing my strong commitment to serving the citizens of Houston and District C.  These numbers reflect the excitement and enthusiasm for my race."
Cohen is well on her way to winning a majority in November and taking her place on Houston City Council.
Cohen previously served in the Texas Legislature as the State Representative for House District 134.  She was the President and CEO of the Houston Area Women's Center (HAWC) for 18 years.  Prior to her role at HAWC, she was the Executive Director of the American Jewish Committee (AJC) for 10 years.