In this Issue:
EPA Invalidates TCEQ Permits
Ellen's Birthday Bash
Calling Blockwalkers!
Ellen on the Issues
The Environmental Protection Agency's (EPA) recent invalidation of permits issued by the Texas Commission on Environmental Quality (TCEQ) has raised ire, support, and questions. I firmly believe for the good of the state of Texas and the health of its people, the two entities must work together. When the EPA is the largest environmental agency in the world and TCEQ the second largest, the need for conversation and collaboration is imperative.
The reason for the invalidation of over 120 permits is that the EPA rejects Texas' use of "flexible permits." Flexible permits essentially put a cap on overall emissions of a facility, but allow leeway for various units within that plant. The EPA believes that this permitting system does not live up to the requirements of the Clean Air Act. The TCEQ believes that the flexible permitting system is in compliance with federal laws, and claims that the EPA is interfering with state's rights.
While the problems are complex, facts and figures rather than finger-pointing will lead us to viable solutions. The ramifications are many, including our quality of life, our children's health, and our ability to attract businesses. TCEQ will be under a routine review process by the Sunset Advisory Commission later this year. Please contact members of the Sunset Commission and share your thoughts
Please email me at info@ellencohen.org to let me know your thoughts on possible solutions and your concerns
State Representative Ellen Cohen
Environmental Links
Texas Commission on Environmental Quality (TCEQ)
Environmental Protection Agency (EPA)
Campaign News
Save the Date – Ellen's Birthday, BBQ, and Yard Sign Bash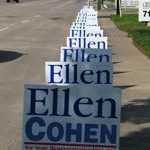 Join Ellen, her family, friends, and supporters for the celebration. Please drop by for BBQ and to pick up your Ellen Cohen yard sign. You won't want to miss the fun!
The event takes place on Saturday, August 21, 11:00 a.m. to 2:00 p.m. at Southside Place Clubhouse located at 3743 Garnet. If you can't make the party but want a yard sign, email Dave Bonem at dave@ellencohen.org or call 713.838.0134.
Blockwalkers Needed!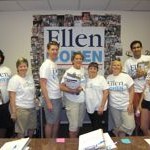 Join us each Saturday in July for blockwalking District 134. We meet at 1535 West Loop South, Suite 412, at 9:00 a.m. First is an orientation, then we blockwalk for no more than 90 minutes, and finally we end with a debriefing. You will definitely be finished by noon. With four blockwalks behind us, we've already knocked on more than 1000 doors. You can make that number grow! For more information email Dave Bonem at dave@ellencohen.org or call 713.838.0134.
Serving in the Legislature, meetings with constituents, speaking engagements, and attending events in District 134 are what Ellen enjoys doing most. Check out photos from some of the activities in which Ellen's participated this month! They include a trip to Lamar University in Beaumont, the Pride Parade, a tour of the UT Health Stem Cell Research Lab, house parties at the homes of Jim & Beverly Postl and Drs. George & Cindy Santos, and much more.
If you would like to invite Rep. Cohen to participate in an upcoming event, please email us or call (713) 627-0134.
See Ellen participating in Austin during an Appropriations Subcommittee on Health and Human Services June 14-15.