HOUSTON — Representative Ellen Cohen (D-Houston) welcomed Appropriations Committee Chair Jim Pitts (R-Waxahachie) to District 134 on May 6 for an Appropriations Forum attended by more than 120 participants. The event, held at the Upper Kirby District Center,  included a brief look at the budget process, an update on the current budget deficit, and time for participants to offer suggestions on budgetary priorities.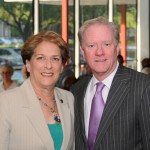 In her introductory remarks, Rep. Cohen, a member of the Appropriations Committee, said Chairman Pitts' has an "ability to work with all people and listen to all sides."  She thanked him for offering balanced leadership to the Committee as they developed a biennial budget of $182 billion in the 81st Legislative Session, and noted that the budget had passed unanimously in the House.
Chairman Pitts acknowledged several challenges facing Texas. He announced that the budget shortfall is projected to be $15-18 billion. He also underscored that agencies and institutions of higher education had already been asked to cut 5% of their current budgets and would probably be asked for more.
He offered several reasons for the shortfall: Sales taxes are down. Stimulus funds from the federal government will not be available next session. And the projection is that at least $7 billion will be needed to fund population growth in the state.
He also acknowledged that the Appropriations Committee was looking at several ideas for funding and reductions. Some of the ideas include:
refinance debt
delay capital expenditures
restrict travel
refrain from filling vacancies at agencies
utilize electronic textbooks
institute hiring freezes at agencies and institutions
At the conclusion of Chairman Pitts' remarks, Rep. Cohen challenged the audience to take on the role of one of the 27 members of the Appropriations Committee. After forming small groups, she asked participants to share suggestions with one another on how to address the budget deficit.  Recorders were assigned to capture the information and reported back to Rep. Cohen and Chairman Pitts as well as the large group during a final wrap-up. Suggestions included:
Tap the state's rainy day fund
Allow gambling casinos
Maintain roads but curtail new highway construction
Examine agencies for long-term effectiveness and eliminate redundancies
Implement criminal justice reform
Cut travel of state employees; increase teleconferencing
Institute mandatory lights-out hours in government buildings
Reduce the number of state holidays