AUSTIN — Representative Ellen Cohen today received the 2010 Visionary Voice Award at the Texas Capitol. Presented each year by the National Sexual Violence Resource Center (NSVRC), the award recognizes individuals around the country who are doing outstanding advocacy and community work to end or prevent sexual violence.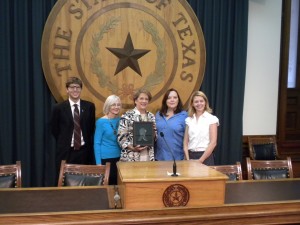 The Texas Association Against Sexual Assault (TAASA) collaborated with NSVRC in nominating Rep. Cohen as one of the ten national award recipients.
"Rep. Cohen has spent over 20 years working to promote healing and justice for sexual assault survivors. Her work in the legislature is another step in a lifetime of advocating for others," said Annette Burrhus-Clay, TAASA's executive director.
In their nomination of Rep. Cohen, TAASA noted that as a freshman representative, she authored and passed ground-breaking legislation to provide an estimated $25 million yearly for adult and child survivors of sexual assault through an Adult Entertainment Fee. They also pointed to her 18 years as the President and CEO of the Houston Area Women's Center and her ongoing commitment to restore balance and integrity to the Texas Legislature as reflected in her now two-term voting record.
"I'm pleased to receive this award from a national organization that has done so much to provide support for sexual assault survivors and to put perpetrators on notice," said Rep. Cohen as she received the Visionary Voice Award. "I'm also grateful to TAASA for their leadership and commitment to ending sexual violence in Texas."
The National Sexual Violence Resource Center provides national leadership, consultation and technical assistance by generating and facilitating the development and flow of information on sexual violence intervention and prevention strategies.
The Texas Association Against Sexual Assault (TAASA) is a non-profit educational and advocacy organization based in Austin. TAASA member agencies comprise a statewide network of more than 80 crisis centers that serve rural as well as metropolitan areas.