In This Issue…
Join Us for the Cohen Campaign Kickoff at The Chocolate Bar – April 25!
Humanities Texas Offers Summer Teacher Institutes
Texas Hospitality Association Announces Scholarship/Poster Contest
Update from Ellen
Children in Texas deserve our protection from all harm — including partisan politics.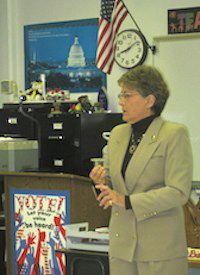 In January and March, the State Board of Education (SBOE) reviewed a set of social studies standards submitted by curriculum teams which had been working for almost a year. Rather than adhere to the recommendations of these teams of experts — composed of teachers, scholars, and curriculum writers — the SBOE voted to drastically alter the draft standards to exclude certain historical events and individuals. I am disappointed that members of the board co-opted the process for their own ideological gain and did not consider the best interests of our students.
A fair and truthful representation of our history in Texas textbooks is a reasonable expectation. Individuals and/or groups should not be excluded simply because their accomplishments, actions, and/or reputation conflicts with a board member's misguided interpretation of history. Our responsibility is to our children and to historical accuracy.
The SBOE has one more chance to do the right thing before these changes are enacted and allowed to prevail for the next decade. Adopting the new standards is scheduled for May 19. You can attend the meeting in Austin and participate via public testimony. You can also take time now to write the SBOE and voice your concerns.
To learn more about the SBOE and the 15 elected board positions, visit the Texas Education Agency (TEA) website, www.tea.state.tx.us, which also contains information on the social studies curriculum standards.
My colleague, Rep. Donna Howard, authored HB 420, which I supported, that would ensure nonpartisan elections of members to the SBOE. Unfortunately, the bill did not make it out of committee. Your comments to me prior to and during the last session underscored your support of this effort. I am committed to once again working on this issue in the next session. I welcome your comments about the SBOE or any other matter.
I am reminded of a quote from Thomas Jefferson who said, "History, by appraising … [the students] of the past, will enable them to judge of the future." Our generation shapes the next with historical measures such as curriculum choices. May we prove to be reasoned and rationale as we make this and other long-term investments in the lives of our children and our future.
One more word on education … I would like to say thank you once again to Rep. Dan Branch for traveling to Houston and providing such an informative overview at the Higher Education Forum. I hope you'll take a moment to review his presentation if you haven't already.
State Representative Ellen Cohen
Ellen in the District

You are cordially invited to make
Ellen's Campaign Kick-off
even sweeter by stopping by
The Chocolate Bar
Rice Village
2521 University Blvd.
April 25, 2010
from 6:30 to 8:00 p.m.
Special guests:
Mayor Annise Parker
and
Mayor Richard Rothfelder
Show your support for Ellen!
Bring your family and friends.
Enjoy some delicious, delectable treats.
And take home your Ellen Cohen t-shirts and magnets.
See you Sundae, April 25!
You don't have to wait for the Kick-off to participate in Ellen's campaign. You can donate now as well as volunteer to host a house party or work in the campaign office.
Please mark your calendars for May 22, 9:00 to 11:30 a.m., for the Campaign Office Open House at 1535 West Loop South, Ste. 412. Please join us for coffee and pastries, and take home a bumper magnet and your 2010 campaign t-shirt.
Finally, save the date of May 6 at 7:00 p.m. for our next Town Hall. Details will follow soon!
Helpful Links
View a copy of the Center for Public Policy Priorities' The State of Children Online
Check out information on the April 26-29 conference "Uniting Against Childhood Obesity" hosted by the Greater Houston Area Health Education Center (AHEC)
Find out more information on Smart Meter Texas and how you can manage your electricity.
The Harris County Hospital District's Volunteer and Guest Services Department is accepting applications for its Summer Junior Volunteer Program. The Summer Junior Volunteer Program is open to students who are entering the high school grades of 9-12 and are at least 14 to 18 years of age. Download an Application Today.
Learn more about the Committees on which Rep. Cohen serves:
View Previous Editions of Cohen Connection
News
Humanities Texas Offers Summer Teacher Institutes
Rep. Cohen will nominate three classroom teachers from District 134 to participate in one of six Humanities Texas-sponsored summer teacher institutes in June.

Through funding from the National Endowment for the Humanities "We the People" initiative, Humanities Texas has sponsored widely acclaimed summer institutes exploring our nation's history and founding principles. These programs give classroom teachers an opportunity to work with leading scholars in a seminar-like setting for three days. The Texas Legislature provided additional funding to allow Humanities Texas to significantly expand the program to six institutes.
While institutes are open to all middle and high school social studies, language arts, and humanities teachers, this summer's programs will focus on topics in U.S. history and culture from the Colonial era through Reconstruction that are central to the 8th grade social studies curriculum. Preference will be given to middle school teachers in their first two years of teaching.
Teachers selected for the institute will receive a $300 stipend, continuing professional development credit, a travel allowance, housing, partial cost of meals and teaching documents for the classroom. Additional information and applications are available at www.humanitiestexas.org.
To be considered for the nomination and for more information, please contact Karen Campbell, District Director, by email or phone at 713.627.0134. Applications must be completed and returned to the District Office by April 16. Mail to: 1535 West Loop South, Suite 320, Houston, Texas 77027.
Texas Hospitality Association Announces Scholarship/Poster Contest

The Texas Hospitality Association (THA) will award a $5,000 educational scholarship to the student who designs the winning poster combating underage drinking and promoting alcohol responsibility. The message to be conveyed — by high school seniors in public or private schools — is "If you are under 21, it's illegal to consume or purchase alcoholic beverages in Texas."
The winning poster will be distributed statewide to every establishment selling or serving alcohol. Deadline is May 14. Rules can be found at TexasHospitalityAssociation.com.
Events in the District
Serving in the Legislature, meetings with constituents, speaking engagements, and attending events in District 134 are what Rep. Cohen enjoys doing most. Below is a partial list of recent activities. Those marked with * are linked to online photo albums.
Susan G. Komen District Day, meeting with advocates
100th anniversary of Boy Scouts in Minute Maid Park
Houston Independent School District Building on Success Luncheon
Neighborhood Center's Heart of Gold Celebration
Higher Education Forum
19th Annual Park Lovers' Crystal Ball 2010
Parents and Families Luncheon of the Children's Museum
Meeting with Environment Texas
Race Against Violence benefitting Houston Area Women's Center
The Pink Tie Gala
Investiture Ceremony for President William Flores, University of Houston Downtown
Bellaire High School Breast Cancer Awareness Day (speaker)
Meeting with Memorial Hermann and Harris County Hospital District staff
Meeting with the SSPEED Center
M.D. Anderson GLBT Network (speaker)
If you would like to invite Rep. Cohen to participate in an upcoming event, please email us or call (713) 627-0134.