In this issue…
An Update from Rep. Cohen
Census to Hit Mailboxes in March 2010
Medicaid/CHIP Regional Advisory Committees
Cancer Prevention and Research Institute of Texas Awards Grant for 1st Scholar in Cancer Research
Update from Ellen
Serving in the Texas Legislature continues to be fulfilling, challenging, and always exciting. A highlight for me is when my colleagues and I address, in a bipartisan fashion, matters of importance to you. I'm pleased to have worked alongside Rep. Dan Branch (R-Dallas), Chair of the Higher Education Committee. In fact, I have invited him to come and speak with you about our work on the Committee and how it will affect the future of higher education in Texas. Please plan to join us for this Higher Education Forum scheduled for Feb. 25 (more details here).
Activities in the coming months are designed to help me advocate for you as I prepare for the next legislative session. We are initiating listening sessions with groups such as small business owners and health care professionals. We will be conducting surveys to ask you for feedback on issues that will be addressed next session. And, we are gearing up for the campaign year.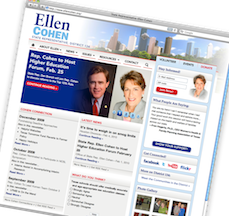 The search for a campaign headquarters is underway, and we're talking with potential staff. We also have a new website! Please visit www.ellencohen.org and tell us what you think.
Your support and guidance during the 81st legislative session encouraged me as I focused on areas you said were important to you. We adjusted the Top 10% Rule, helped UTMB to rebuild after Hurricane Ike, prepared the way for more Tier One universities, and found relief for small business owners by increasing the margin tax exemption. Your input on these and other issues helped me formulate thoughtful and reasoned votes. I continue to welcome your comments on areas of concern to you.
Please know, as well, that I value every donation of volunteer time and energy and each word of advice and counsel. Of course, your financial contributions are also greatly appreciated as I launch my 2010 campaign.
If you have already made a donation, please accept my sincere gratitude. If you haven't had the opportunity, please click here and contribute what you can. And if you are open to giving your valuable time, we have many volunteer opportunities available. Please email or call the campaign at 713-838-0134 for details.
I welcome your email or phone calls (713.627.0134) on any matter you feel is important. As I come into the District office each day, I count it a privilege to serve you. Thank you for your continued support.
State Representative Ellen Cohen
---
Census to Hit Mailboxes in March 2010
The ten questions will take ten minutes to complete and will affect public and private decisions for ten years. Answers are entirely confidential. Please take the time to fill it out and mail it back.
A better count for Houston improves the possibility of:
Increased funding for hundreds of critical programs serving youth, seniors and others in need
More funding from the Institutes of Health, the National Endowment of the Arts and a dozen other Federal agencies
Better highways and more transit investment
Another member of Congress and more representation in Austin
A more accurate picture of our population to use when adding two new City Council Districts in 2011
For more information, visit houstoncounts.com.
Ellen in the District
Meetings with constituents, speaking engagements, and events in District 134 populate Rep. Cohen's calendar. Below is a partial list of recent activities. Those marked with * are linked to online photo albums.
Greater Houston Builders Association 2010 Forecast Luncheon
Greater Southwest Houston Chamber Luncheon
Greater Houston Partnership's 2010 Annual Meeting
American Leadership Forum Reunion and Annual Meeting
Planned Parenthood Luncheon
The Quality of Life Coalition
Houston Society of Oral and Maxillofacial Surgeons (speaker)
Greater Houston Women's Chamber of Commerce Volunteer Award Luncheon (presenter)
Rice Student Volunteer Program's Education Awareness Week* (speaker)
Texas Heart Institute event honoring Jan and Dan Duncan
The State of Israel Bonds Hannah Senesh Award Dinner
BioHouston's Breakfast Forum
Jewish Community Center's 20th Annual Children's Scholarship Ball (presenter)
If you would like to invite Rep. Cohen to speak at an upcoming event, please email info@ellencohen.org or call (713) 627-0134.
To view Rep. Cohen's event calendar, click here.
News
Higher Education Forum Set for February 25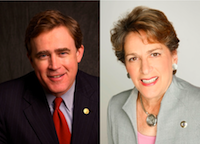 State Rep. Cohen (D-Houston) will host State Rep. Dan Branch (R-Dallas), chair of the Texas House of Representatives Higher Education Committee, at a Higher Education Forum scheduled from 6:00 to 8:00 p.m., Thursday, February 25, at The Rice School, 7550 Seuss Drive, Houston, 77025. The event is open to the public.
Chairman Branch not only led the successful efforts to reform the Top 10% college admissions law, he also helped set the stage to develop more Tier One universities in Texas, limit cell phone use in active school zones and provide more interactive technology in public school classrooms.
"As a member of the Higher Education Committee, I am pleased that Chairman Branch accepted my invitation to address the people of District 134 regarding higher education issues. With 67% of the District holding an associate or bachelor's degree or higher — compared with 23% statewide — what happens on the Higher Education Committee is enormously important to the constituents I represent," said Rep. Cohen.
For more information, call the District Office at 713.627.0134, email info@ellencohen.org, or visit www.ellencohen.org.
---
Medicaid/CHIP Regional Advisory Committees
Texas Health and Human Services Commission is accepting applications for membership to the Medicaid/CHIP Regional Advisory Committees for 12 areas across the state. Applications will be accepted through Feb. 26, 2010. Learn how to apply today.
You can view or update your subscriptions, password or e-mail address at any time on your User Profile Page. All you will need are your e-mail address and your password (if you selected one).
This service is provided to you at no charge by Texas Health and Human Services Commission. Visit the Commission website for more information..
P.S. If you have any questions or problems e-mail support@govdelivery.com for assistance.
---
Cancer Prevention and Research Institute of Texas Awards Grant for 1st Scholar in Cancer Research
Rep. Cohen was the first House sponsor of the bill creating the Cancer Prevention and Research Institute of Texas in 2007. In May 2009, the 81st Legislature appropriated $450 million in bond proceeds for the next two years for CPRIT to fund cancer research and prevention grants. These grants will expedite innovation in cancer treatment and expand cancer prevention services in the state. CPRIT recently made its first appropriation for the $3 billion, ten-year project.
The initial grant is for a First-Time, Tenure Track Faculty Member to the University of Texas Southwestern Medical Center in Dallas. The $2 million, 4-year grant will be utilized to recruit noted researcher Dr. Ralf Kittler to establish a fully independent laboratory focusing on the study of prostate cancer beginning February of 2010. Dr. Kittler will serve as the first Scholar in Cancer Research.
"I am pleased to see the CPRIT moving forward, and welcome Dr. Kittler in his new role," said Rep. Cohen.
Further information regarding applications and available grants is available on the CPRIT website.